Single-phase residential inverter
The inverter does it itself generated electricity can only be used. He walks the one gained by the PV system, direct current to alternating current.
Reliable operation
Higher quality and more powerful Hybrid inverter with 10 years Product Guarantee.
Stylish design
Timeless & minimalist design. OLED display.
Smart management
Integrated energy management System for maximum efficiency.
WIFI
Real-time monitoring and control via app and web application.
Flexible installation
Horizontal design and snap-in Terminal configuration for easy installation and maintenance.
convert electricity effectively
Everyone who feeds in the electricity generated by their PV system needs an inverter
or would like to use it for typical household electronic devices.
Why is that? Photovoltaic systems generate direct current. The mesh and almost all the usual. However, electronic devices require alternating current. The task of the inverter is
to convert the direct current obtained from the PV modules into alternating current. A
Inverters are therefore an essential part of almost every system.
Innovative and future-oriented
The technology at a glance
With a maximum efficiency of 97.6%
Stay connected - with everything
With the DM Smart Energy app, you can power production and monitor your household power consumption in real time. Easily set your personal settings and specifications firmly. Thanks to instant notifications and remote access, you can monitor and control the system from anywhere.
Monitor, Optimize, Save.
Adapt personal settings and specifications

Stay in with your energy storage system Connect – anytime, anywhere.
Manage and control electricity production & usage.
DThe app is available for Android devices and iPhone.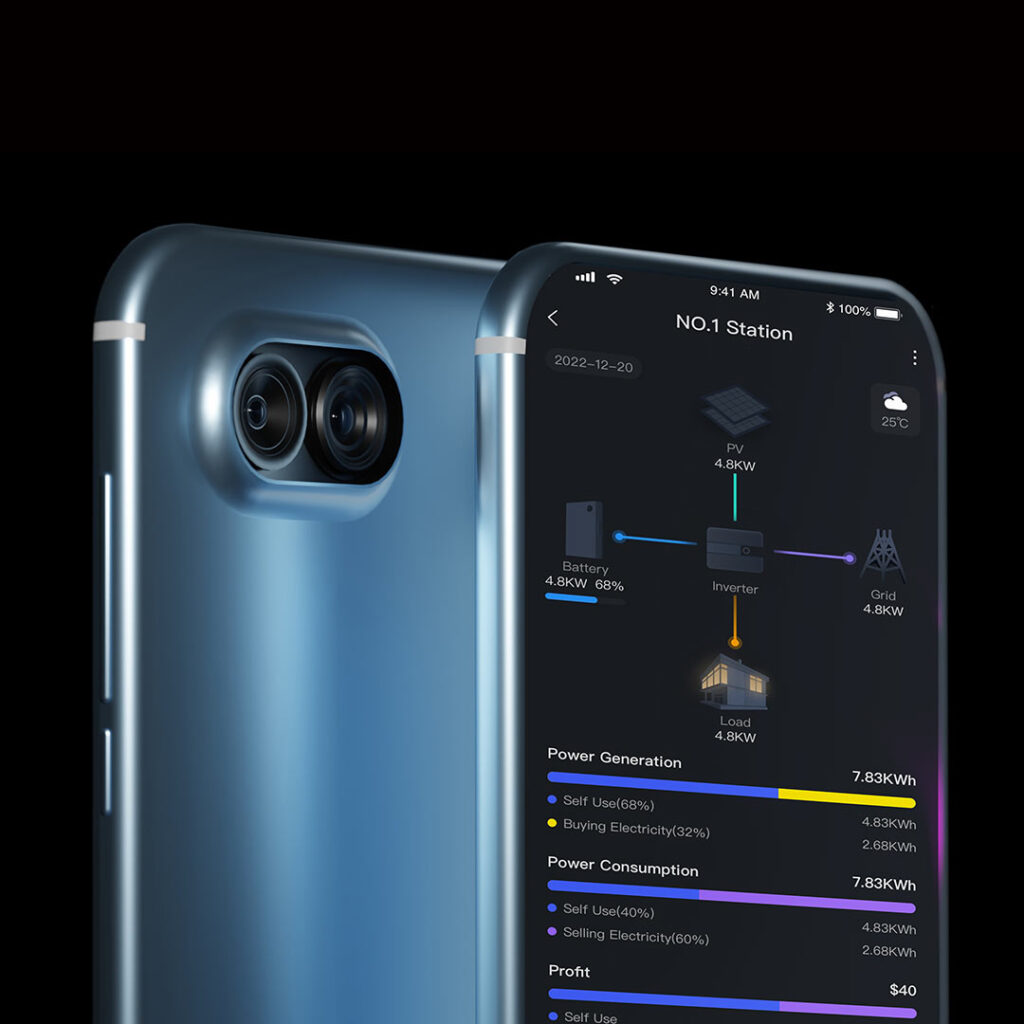 Simple, fast and uncomplicated:
Benefit from easy commissioning via app and the integrated automatic
performance data backup.
Comfortable and reliable:
Real-time data collection through module-level monitoring. Clear presentation of Power generation and energy flow, as well as straightforward device and report management.
Network and system monitoring
The power grid is very sensitive to voltage and frequency changes, which is fast
can lead to network overload. The inverter monitors these parameters
permanently and automatically disconnects the PV system from the power grid if one of the limit values is exceeded. The system itself is also monitored by the inverter. Voltage, current and performance data are always measured, which
Malfunctions or problems can be identified quickly. In addition, data on performance and yield can be viewed in order to be able to optimize self-use and feed-in.
Start your own energy transition!
Heating & cooling with solar power – how to make your own home almost self-sufficient with a photovoltaic system, power storage and heat pump: For a single-family home, the combination of a PV system and heat pump is worthwhile. The photovoltaic system generates inexpensive electricity from solar energy, which you use to operate of the heat pump can use. The low flow temperature of underfloor heating further minimizes your power consumption and at the same time increases the efficiency of the heat pump. The power storage complements this combination and ensures that excess Solar yields are stored and then made available to you when they are needed. In this way the degree of self-sufficiency of your property can increase by up to 80%.